Pentru inceput , Yasuo este un fighter-assassin , care depinde relativ de echipa.
+Pros
-Foarte mobil
-Damage mare
-Crowd Control (CC) mare
-N-are mana cost
-Shield care ti se incarca de cat de mult de misti
-Greu de gankat
-Wind wall-ul care blocheaza 80% din toate spelurile
-Cooldown (CD) mic
-Attack Speedul reduce CD-ul la Q
-Farmeaza foarte usor
-Pasiva ii dubleaza Critical Chance-ul
-Cons
-Este dependent de stackarea Q-ului
-Coodown Reduction-ul (CDR) nu functioneaza pe Q si E
-Critical Damage-ul este redus
Rune V1: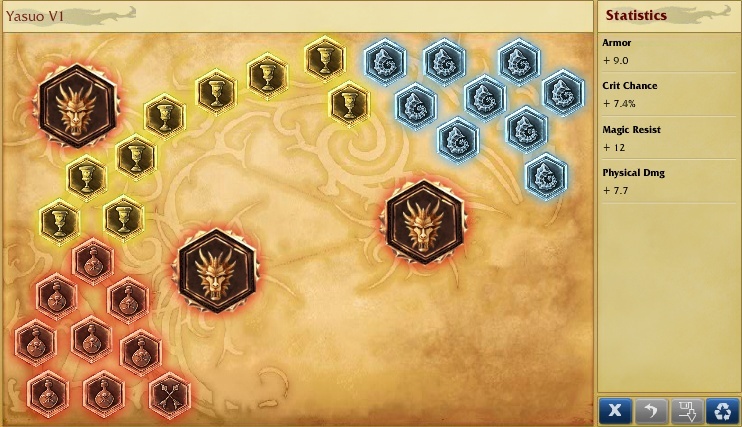 Marks:
x8 Flat Critical , x1 Flat AD
Seals:
x9 Flat Armor
Glyphs:
x9 Flat Magic Resist(MR)
Quints:
x3 Flat AD
Aceste rune le folosesc cand sunt contra ceva ce nu imi poate da poke asa de usor si stiu ca il pic usor(ex :Nida, Gragas, Lux, etc...)
Rune V2:
Marks:
x9 Flat AD
Seals:
x9 Flat Armor
Glyphs:
x9 Flat Magic Resist(MR)
Quints:
x2 LifeSteal , x1 Flat AD
Aceste rune le folosesc pentru a avea un sustain mai mare si pentru a juca defensiv.
Masteries:
Items:
Itemele de la inceput sunt:

Imi iau doran ca sa pot rezista pe lane , sa am sustain si sa fiu mai tanky
Iteme Necesare:

Statick Shiv-ul se aplica pe Q , da movement speed sa-si incearca mai rapid pasiva, vampiric scepter-ul il iau pentru sustain, boots-i sunt foarte eficienti pentru chase-uri si pentru a-si incarca pasiva.
Iteme Ofensive:
Infinity Edge-ul ii reface Critical Damage-ul, Blade of the Ruined King-ul ii da Attack Speed-ul (AS) necesar pentru ai mici CD-ul pe Q + Activa pentru chase,  Berseker Boots-i cu Furor ofera Movement Speed-ul (MS) necesar pentru a nu-ti scapa targetul
Iteme Defensive:

Dupa ce isi da ultimata in mai multi inamici, poate folosi activa de pe Randuin pentru a le da slow , pe langa tons of CC, Banshe-ul are pasvia care blocheaza si mai multe speluri , pe langa Wind Wall-ul sau.
Iteme Optionale:
Pasiva de pe Hydra se aplica pe Q, Maw of Malmortius poate inlocui Randuin-ul (in cazul in care ADC-ul lor nu este feedat si au mult AP), Mercury Treads poate sa ofere mai mult Magic Rezist (MR) si reduce durata CC-urilor.
Matchup-uri:
Este bun in echipa cu:
Toperi:
Wukong , Malphite , Riven , Shyvana , Singed , Volibear
Jungleri:
Wukong , Vi , Hecarim , Gragas , Jarvan IV , Nautilius , Sejuani , Diana , Xin Zhao
Suporti:
Janna , Thresh , Lulu , Alistar , Blitzcrank , Braum , Zyra , Nami
ADcarry:
Vayne , Tristana , Draven , Quinn
Este slab impotriva:
-Riven
-Jax
-Kayle
-Swain
-Zed
-Soraka (Nu glumesc)
-Akali
-Tryndamere
Este bun impotriva:
-Velkoz
-Nidalee
-Gragas
-Lux
-Ziggs
-Si orice champion care are skillshot-uri...